The Coast Chapter is part of Willamette Writers, Oregon's largest writers group. We meet on the third Sunday of each month from 2:00-4:00 p.m. at the Newport Public Library (McEntee Room). No meeting in July, August and December.
Upcoming Meeting: 
Newport: Personal Essay Workshop with Karen Karbo
Note: This Meeting is on Sunday, April 9, and not on our usual 3rd weekend
Karen Karbo, author of multiple award-winning novels, memoirs and works of non-fiction, will discuss the art of the personal essay at the April 9 meeting of Willamette Writers Coast Chapter. The meeting takes place from 2 to 4 p.m. at the Newport Library.
Everything's Personal: Finding your Essayist's Voice & Passion
The stranger the times, the more the personal essay shines. Not to be confused with the sleep aid we learned to crank out in 6th grade, nor the over-written plea included in our college application, the best personal essay is passionate, eccentric, provocative, and about one inch from coming off the rails. Which makes them a blast to write. Come with ideas, leave with a better sense of your voice, true subjects, point of view, and power.
About Karen Karbo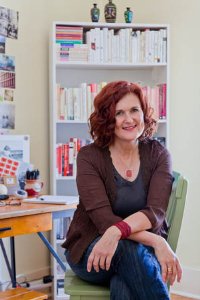 Karen Karbo best-selling "Kick-Ass Women" series includes Julia Child Rules: Lessons on Savoring Life, How Georgia Became O'Keeffe: Lessons on the Art of Living, The Gospel According to Coco Chanel: Life Lessons from the World's Most Elegant Woman, and How to Hepburn: Lessons on Living from Kate the Great.
Karbo's novels include Trespassers Welcome Here, The Diamond Lane and Motherhood Made a Man Out of Me. Her 2004 memoir, The Stuff of Life, about the last year she spent with her father before his death, was a New York Times Notable Book, a People Magazine Critics' Choice, a Books for a Better Life Award finalist, and a winner of the Oregon Book Award for Creative Non-fiction.
Her short stories, essays, articles and reviews have appeared in Elle, Vogue, Esquire, Outside, the New York Times, salon.com , The Nervous Breakdown.com and other magazines.
A Portland resident, she was one of 24 authors selected for the inaugural Amtrak Residency. Her next book, In Praise of Difficult Women, is forthcoming in 2018.
Connect with the Coast Chapter
Join our meetings and workshops.
Like our Facebook Page to keep in touch.
Contact us privately if you have a specific inquiry or an announcement to share with the chapter.
Members from other chapters welcome!
Coast Chapter's Monthly Meetings
Unless otherwise stated…
When
The Coast Chapter meets on the third Sunday of each month from 2:00-4:00 p.m., except for July, August and December. (In August we head to Portland for the Willamette Writers Conference.)
Where
The Coast Chapter meets at the Newport Public Library (McEntee Room) at 140 S. 3rd St. Newport, OR 97365.
The Meetings are Free Thanks To Our Sponsors
The meeting is free thanks to the generosity of the Newport Public Library and local businesses such as Hallmark Resort, Anchor Pier Lodge, Elizabeth Street Inn, and Sylvia Beach Hotel, and the generous time and space provided by our media partners.